Block
Follow the progress of the Abacus Playgrounds team as they install a Rosehill TPV® softfall rubber surface at Butlin's brand new SKYPARK playground in Skegness on England's east coast!
//
SKYPARK
at Butlin's Skegness
Introducing SKYPARK at Butlin's Skegness – a breathtaking new project on England's picturesque east coast, brought to life by

Abacus Playgrounds

and Jupiter Play & Leisure. We're thrilled to give you a sneak peek into the vibrant, safe, and durable softfall rubber surface created using an array of premium Rosehill TPV® blends.
What sets Rosehill TPV® apart? Our industry-leading granules boast unbeatable UV resistance, guaranteeing surfaces that retain their stunning colours far longer than competing products, even in the toughest conditions. No more brittleness or hardening over time – just a dependable, enduring surface your community will love.
Rosehill TPV® raises the bar with outstanding thermal stability and steadfast resistance to carbon black and coloured pigment leaching. Its UV and weather-resistant properties ensure remarkable flexibility that lasts, even with continuous sun exposure.
Save big without sacrificing quality – Rosehill TPV® granules' non-porous nature means less PU binder is required for installation, leading to substantial cost savings. And with 22 eye-catching colours to choose from, you can effortlessly customise the perfect blend for any project.
Safety and performance go hand in hand with Rosehill TPV®. Our non-toxic, non-allergenic granules meet international standards and are free from harmful materials. Praised worldwide for its exceptional elasticity, Rosehill TPV® consistently delivers high quality playing conditions that stand the test of time.
Experience the Rosehill TPV® difference and create spaces that inspire play, leisure, and community.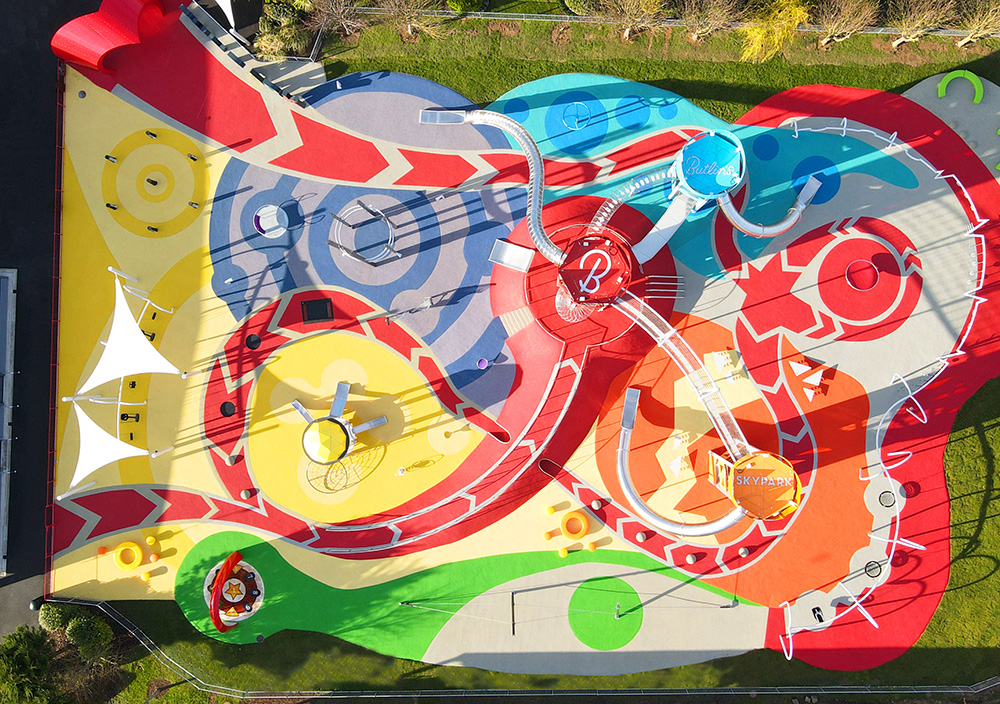 SKYPARK: Discover the ultimate playground adventure, featuring four awe-inspiring climbing towers, each presenting their own set of thrilling challenges. Conquer the colossal 14-meter-high tower and revel in breathtaking panoramic sea views, making every climb an unforgettable experience.
Experience pure exhilaration as children zoom down the dazzling 10-meter tube slide, illuminated with vibrant lights for an enchanting ride. Delight in the unparalleled excitement of the UK's longest interactive seesaw.
SKYPARK offers sensory elements and wheelchair-accessible equipment, fostering an environment where everyone is welcome and valued. As day turns to night, the playground transforms into a captivating spectacle, with brilliant lights creating an unforgettable after-dark experience.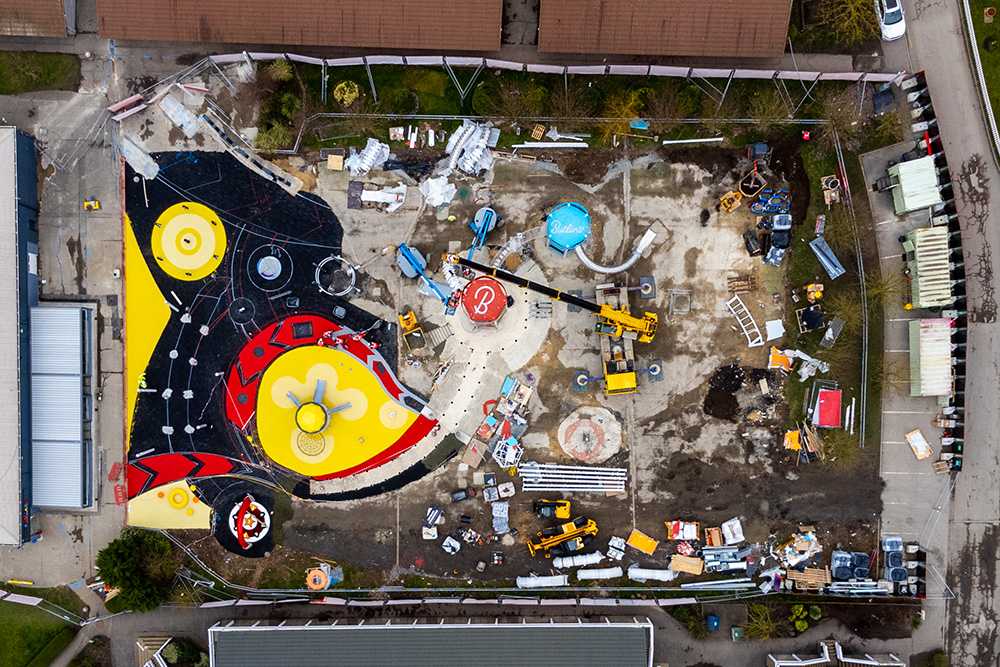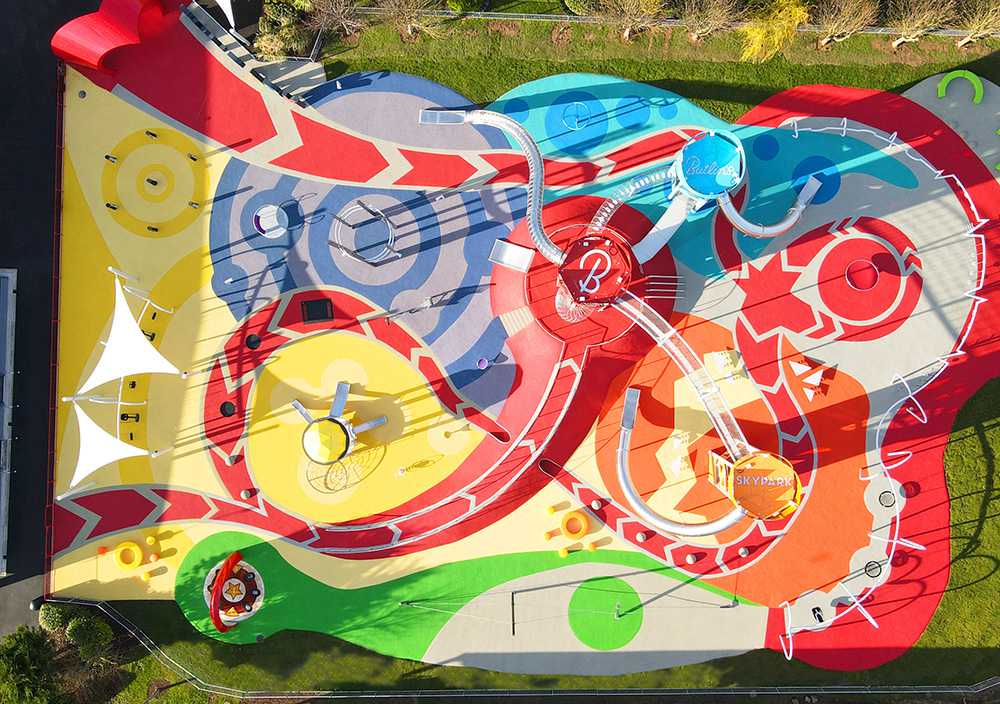 HTML5
We visited the site in early March to see the progress being made on the softfall rubber surface. Check out the slideshow video here.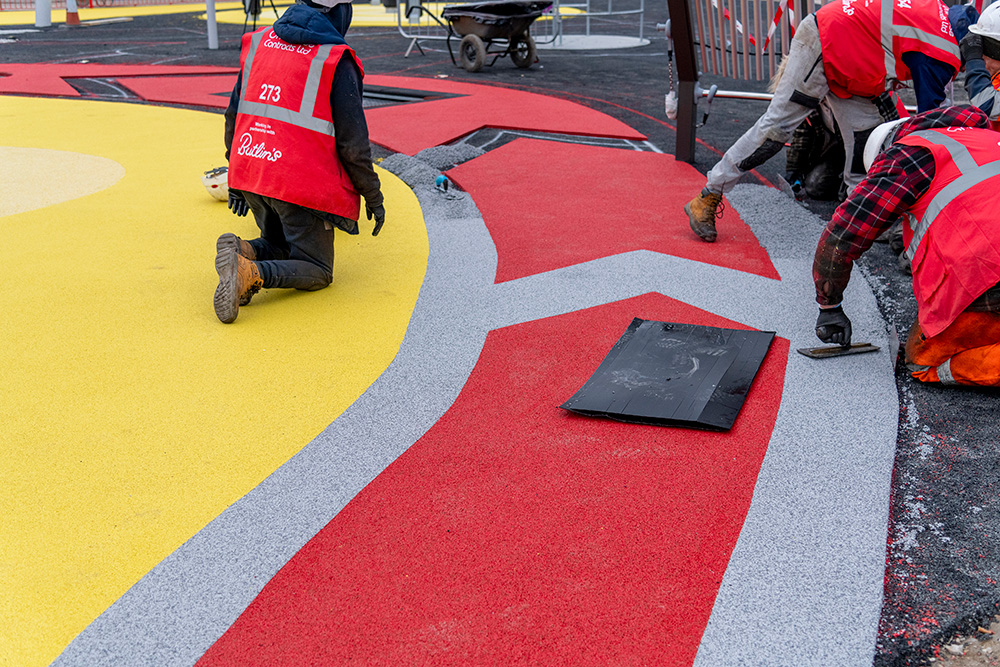 HTML5
We returned to site at the end of March to see the completion of the softfall rubber surface. Check out the slideshow video here.